1945 Panorama Photos of Okinawa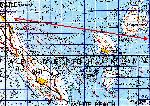 I have been able to put together some panoramas of Okinawa in 1945 based on photos that GI's took probably with no idea that 65 years later computer software would be able to take their photos and stitch them together into panoramic views of what they were looking at.



If you look at the map (Top Left - 1959 US Topographic) you will see where I believe the GI was standing when he took a series of snap shots of his camp (top right) on the coast of Okinawa. On the horizon you can see the islands of Miyagi (Takabanare), Heianza (Henza) and Hamahika (Hama-Higa).




There are also three panoramas of Naha (middle left, middle right, bottom left) just after the end of the war, and a view of the harbor at Naha (bottom right).